Users may not create topics, posts, or private messages containing or relating to the following material (especially pertaining to Motorola copyrighted software, unless you want Motorola to come along and shut this site down):
Listing for sale or trade of, or links to sites offering for sale or trade of, or giving away, Radio
Service Software (RSS) or Customer Programming Software (CPS)
Profanity, pornography, defamation, or slanderous remarks directed towards any individual or entity
Commercial advertising (except in the Batboard Vendors forum, as approved by the Admin/Mod Staff)
Any other items which may be deemed as offensive

If any topics, posts, or private messages containing or relating to the aforementioned material are brought to the attention of the Admin/Mod Staff, they will be deleted.

Additional FAQ items appear here in

Forum Rules

. Please review them for posting guidelines and further clarification.
Moderator: Queue Moderator
Hi!
Can anyone tell me the difference between a "Pageboy II" and an "Metro Pageboy II"?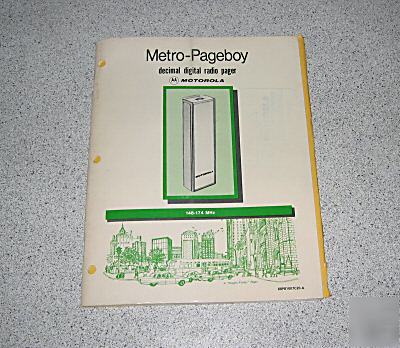 Thanks in advance!
Joachim
---
Pageboy II was a 2-tone pager

Metro Pageboy was a different format. Not sure if it was 5-tone, or a digital format. but was a higher capacity format for this time when everyone in a large city had a pager and more cap codes were needed.
---
Hi RFguy,
thanks for your quick reply. The Pageboy II was also capable of 5-tone decoding, which was used all over germany for example.
But you may be right anyway, that it used a different coding type. The manual says "decimal digital", what is also known as "Motorola EIA". It is similar to 5-tone, but faster and has a slightly different format.
In addition to the small housing shown on the manual, there is an extended version which i guess is also a Metro Pageboy. It has a seven digit display showing the called capcode (or what else?).
Attached some pictures of one of those i own. Does anyone have some more information about this extended version? As far as i found out, there is only one codeplug. But then it is not clear anymore, which information is shown on the display....
Thanks in advance!
Joachim
---
The Metro was what Motorola called "Decimal Digital" which was actually a 5/6 tone format.
---
---
Return to "Motorola Digital and Voice Paging"
Who is online
Users browsing this forum: No registered users and 1 guest